Christmas Outreach Project
November 13, 2021

-

December 5, 2021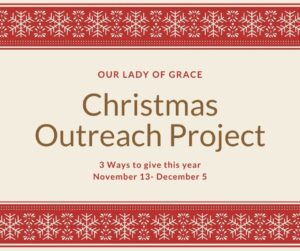 Once again, St. Benedict's, St. Cecilia's, Assisi House, Marian House, Franciscan Center and North Cluster Food Bank are counting on us!
We are offering three ways to participate in this annual project.  All gifts may be brought to the Our Lady of Grace Gathering Space between November 13 and December 5.
Donate Money through an account on Give Central. Select the option titled "Christmas Outreach" and enter the amount you would like to contribute as a one-time donation. Outreach members will use the wish lists we have from our recipient organizations to make purchases and wrap the gifts for you.
If you do not want to use Give Central, checks may be sent directly to OLG, with "Christmas Outreach Donation" in the memo. Deadline for monetary donations: November 28, 2021
Sign-Up Genius.com allows you to select and purchase a specific gift.
Use this link to access to the sign-up sheet –
https://www.signupgenius.com/go/9040F44A9AE28A7F58-christmas1
Purchase the item you sign up for. If it is an outfit, your gift should include winter pants and a shirt/sweater or sweatshirt.
Wrap it in a secure gift bag or box. Note- comforters do not need to be wrapped.
Secure a gift tag to it, clearly showing if it is for a Boy or Girl and the Size.
Bring your wrapped gift to Our Lady of Grace on dates noted above.
Purchase Listed Generic Item(s) from the following list for Men or Women.
Bring items UNWRAPPED to OLG Gathering Space on dates noted above:
Hooded sweatshirts -sizes S-XXL
Crew neck sweatshirts – sizes S-XXL
Sweatpants – sizes S-XXL
Multipacks of socks (for winter – crew or knee high) – all sizes
Multipacks of undershirts or underwear – all sizes
All items must be NEW with packaging and/or merchandise tags attached.
Please contact Jane Weaver with any questions (410) 935-7426