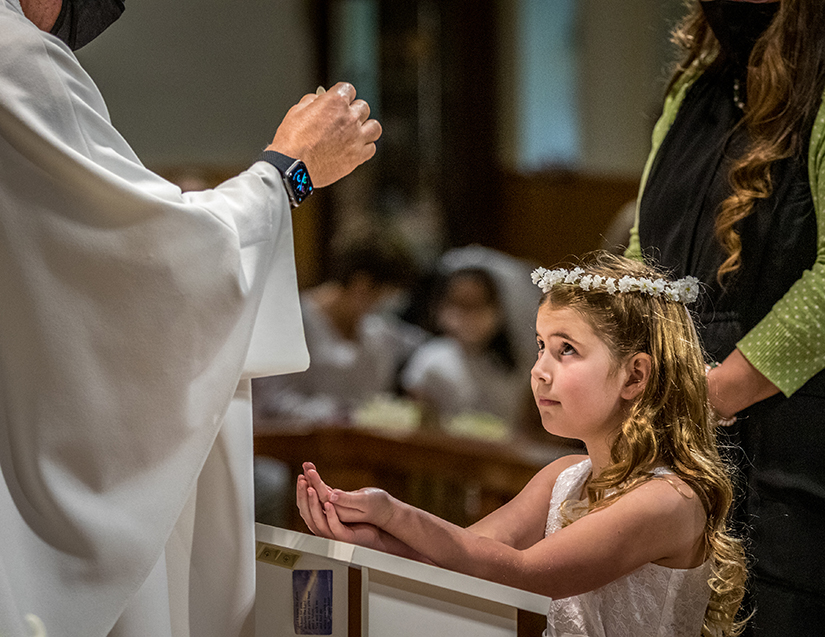 Preparation for First Reconciliation and First Eucharist is a very exciting time for families. We hope to make this an enriching and engaging experience which encourages a lifelong relationship with Jesus and his church.  Usually this takes place in the child's 2nd grade year. Children are to be active participants in Faith Formation the year prior and the year concurrent with these sacraments at either their parish or school. 
In addition to Faith Formation there is a separate program to prepare them for the sacraments. This program includes a parent meeting, workshops, retreat and at home study. Most of the preparation will be done at home. This year we are using an interactive program that is available on-line. Once enrolled in the program a schedule will be provided. We look forward to helping your child prepare to receive these most precious gifts.
First Eucharist

First Eucharist ( First Communion) is, for Catholics, both a meal and a sacrifice. The Lord gave us the Eucharist at the Last Supper because he wanted us to share in the life of the Trinity, the loving communion of the Father, the Son and the Holy Spirit. We become united to God at our baptism, and receive a further outpouring of the Holy Spirit at our confirmation. In the Eucharist we are nourished spiritually, brought closer to God, again and again: "By eating the Body and drinking the Blood of Christ in the Eucharist we become united to the person of Christ through his humanity," write the bishops. They remind us of the words of Jesus in John's Gospel: "Whoever eats my flesh and drinks my blood remains in me and I in him" (Jn 6:56). The First Eucharist for our children also has meaning for the whole community. We smile at the children in their first Communion finery and celebrate as they join us at our family table: the table of God's family. First Eucharist is just such a momentous experience. A child, baptized as an infant into the family of God we call Church, at last takes a place at the Lord's table with the grownups. Grandparents, family and friends are invited to join the celebration of such a special occasion.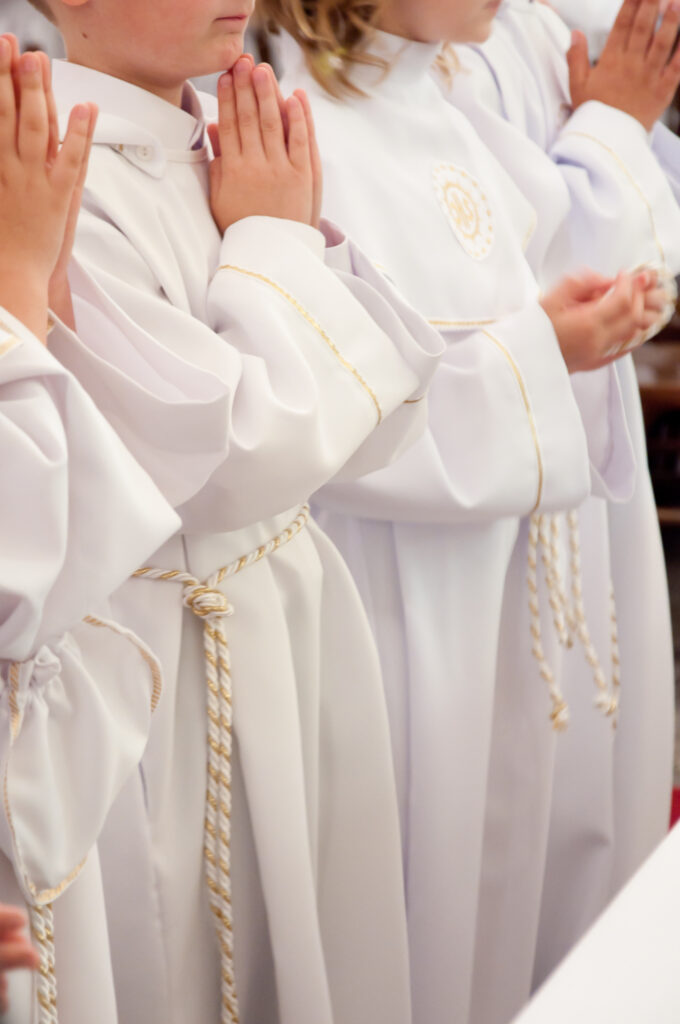 Reconciliation and Eucharist preparation