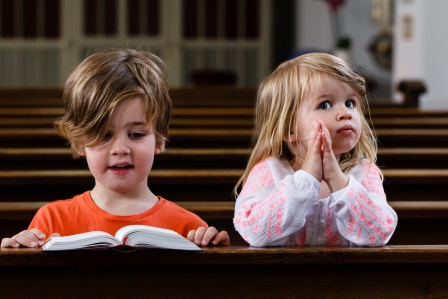 The goal of our Faith Formation program is active learning that translates into active faith. What we believe about children and the way in which they best experience the transmission of faith shapes this program in many ways.
Pre K – 5th grade: Sundays, 9:30am-10:45am
Children gather in the Library for an opening activity (usually related to the Liturgical Year), then move to their grade level classes for the remaining time. A list of dates will be provided to you after registration.
Pre K – Kindergarten: Children learn about the love of God through a balance of Bible Stories, crafts, games, prayer and play.
1st – 5th grade: Children learn what it means to be a follower of Jesus. In the sessions children learn about the Catholic tradition, doctrine and scripture. Knowledgeable catechists share their faith and engage their students through prayer, study, activities, games, art/crafts and discussion.
Celebration Days for PreK-5th Grade: we meet all together to learn about a special time in the Liturgical year: All Saints Day, Epiphany, Lent.
Contact: Meg Knarr: mknarr@ourladygrade.org.