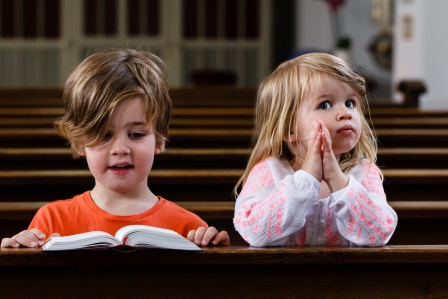 The goal of our Faith Formation program is active learning that translates into active faith. What we believe about children and the way in which they best experience the transmission of faith shapes this program in many ways.
Children in Pre-K to Grade 5 are placed in our Elementary Faith Formation program that meets on Sunday mornings from 9:30 to 10:45 am. Children ages 3 to 6 are placed in our Catechesis of the Good Shepherd curriculum. Children in grades 1 to 5 participate in our Discover: Finding Faith in Life series.
According to Archdiocesan guidelines, for a young person to be eligible to receive a sacrament, he/she must be attending Faith Formation classes, or Catholic school, regularly for at least a year before the year they receive the Sacraments of Reconciliation, Eucharist, or Confirmation. Faith Formation is considered to be a life-long experience – not just for the reception of sacraments.
It is our expectation that all enrolled children attend the scheduled classes, including special programs and grade level retreats. Participating regularly in the Liturgy of the Eucharist, (Mass), and the parish Faith Formation program instills the Catholic Faith in a child. It is important for the child to make connections between what they learn at home, in class and at Mass. Children are encouraged to attend Mass with their families on a regular basis. Attending a Faith Formation class should never take the place of Mass.